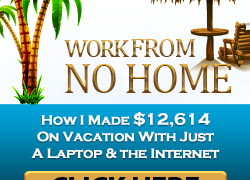 Here's a review of a new course called Work from No Home. Now this course is quite a bit different from the usual "Make Money From Home' themed courses that you have probably seen for the past 10 years or more. The obvious thing striking here is the mention of "No Home". So let's take a closer look to see if this new course delivers the goods "away from home", or if it's just another cool-sounding fad.
This course was created by well-renowned marketers Peng Joon and John Chow. Peng Joon is well known in the gaming niche and has released bestsellers in games such as Farmville Secrets, Diablo 3 Secrets, and WoW Secrets. John Chow commands very high respect in blogging, famed for his zero to $40,000 per month income in just two years. With such credentials, we would naturally have high expectations for this course to deliver.
Work From No Home is a catchy product as it takes the form of a reality show, with Peng Joon taking a 1 month trip to the US, and showing you how he can make money online from scratch, with only an internet connection and a laptop in hand. He starts off from zero with a brand new Clickbank account, and shows you as the days pass by, how he makes sales and earns an impressive $12,000+ in just 1 month.
So while the video itself is unique and appears convincing, but most importantly, does the course itself deliver on what it claims to do? In critically examining this course, we are glad to say that the course overall is pretty up to date, and focuses mainly on SEO affiliate marketing. The SEO methods are the strongest points of this course, as it caters well to Google's current requirements for Panda and Penguin. The focus is mainly on building sites on current topics or the hottest products, and replicating a successful process once the initial steps are setup correctly for greater profits.
With 35 lessons spread over 7 training modules, the Work From No Home program also includes a 30-day action plan directing you on what to do right from Day 1. This forms the core strength of this course, since it is effectively supposed to be the walkthrough of the steps that Peng Joon took to make such good money online in just a month spent in the US on holiday. Packed with ready-made templates, you are able to customize the sites to suit your needs and tastes.
The core course covers market selection, the basics of domain names and installing WordPress blogs, SEO, backlinking, techniques for standing out from the competition, and outsourcing tips. At the end of 30 days, you are to achieve the course's objective of creating 6 sites. This is achievable as long as you are disciplined enough to follow through all 30 days of the action checklist itself.
Overall, the greatest strengths of this course lie in its unique 30-day approach that is evidenced in the action plan, as well as the highly effective SEO component. The only downsides we feel would be the need to include more training videos. Also, the course is geared more towards beginner to intermediate marketers, and advanced marketers who are already making a good steady income online would probably not benefit much from this course.
Having said that, this course is definitely worth checking out especially if you are having trouble staying focused and just need a clear action plan to follow.
Click here to start your Work From No Home today