Ultimate Profit System (UPS) is a new package by Jason Fulton, who was successful with his previous product List Generator System. So he's now sharing how he was successful in creating and launching his own product, and how you can do the same by building your own ultimate online business that you can profit from not just once, but on a recurring basis.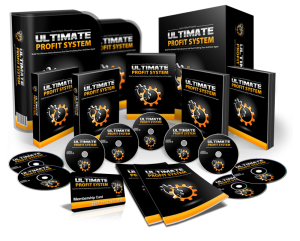 The UPS has 6 core modules which include:
Module 1: Ultimate Profit System Revealed
In this module Jason covers what the complete system is all about, clear intro and overview.
Then in the following modules he breaks down each step so you can start implementing and
taking action right away.
In the intro, he does share about how he used to struggle online for a long time and looking back, how he wished he had this system in place when he started. That makes sense, since having a successful system laid out for you should quicken anyone's success.
Module 2: Ultimate Niche & Product Creation Secrets
This module moves on to the implementation of the actual system without much further ado. 
The first step involves simple niche research followed by the actual product creation.
Jason does a decent job explaining it in simple terms with his simple "3 step questions" that will help you decide if a niche is profitable to enter.
As for the product creation part itself, he uses his "10×10 matrix" system that helps you to form the outline of your product. Trying this out, this is definitely a shortcut, compared to just creating your own product yourself from scratch without following any particular structure or system.
Module 3: Ultimate Automated Funnel
In this module, you will learn how to create an automated funnel that delivers buyers to you while you sleep. So you just have to set this up once and it will pay you many times more down the road.
* An interesting bonus he's included is a Marlon Sanders copywriting course which should help when you're writing your sales letter.
Module 4: Ultimate Traffic Technique
Now with the entire system setup from niche chosen, product created, and salespage written, you still won't make any money without any traffic.
Without traffic there are no buyers, simple as that.
Now, while we do know that buying traffic is the fastest method and can be very effective when done correctly, but you may not have the finances right now, or the skills and time to master paid traffic and track all your traffic properly.
So in this module Jason covers a solid traffic generation technique that's free: Affiliates.
Yes, recruiting affiliates to drive traffic to your product. Don't forget that now you're no longer just the affiliate competing with many others. As a product owner, you get to recruit affiliates and sit back and watch as the traffic and sales rolls in.
Module 5: Ultimate Backend Profits
This is probably the best part about the Ultimate Profit System and hence where its name came from.
This is where you learn how to multiply your profits on your backend, and the options are limitless when it comes to the backend part of the funnel.
He shows you how he doubled his income by implementing just one method, and how you can implement all 3 methods to triple your income or more.
Module 6: Tying Everything Together
In this module, the course wraps up by recapping the simple 5 steps that can launch you from zero towards the 6 figures goal.
All in, I would say that this is a sound, viable long term business model that can work for you as long as you have the discipline to follow it through.
This certainly beats buying any more shiny new products , push button solutions or one click software.
Click Here to check out Ultimate Profit System